The Quick Guide to Effective Strategy
The 'must have' how-to guide for entrepreneurs, company directors (executive and non-executive), charity trustees, senior government officials, school governors and anyone else who wants to understand how to develop effective strategy
Most strategy books introduce you to lots of different tools, techniques and methodologies that can be used to analyse almost everything. The problem is that they don't explain how to apply them in a sequence that starts with confirming whether you need a strategy and, if you do, what you want it to achieve, and ends with a completed strategy that you can implement and then adapt as circumstances change (which they inevitably will). The Quick Guide to Effective Strategy is different because that's exactly what it does.
Based on fourteen critical thinking questions dispersed over five thematic stages, the proven methodology described in the book is entirely scalable. This means it works when you only have a few hours to decide how you're going to react to a rapidly unfolding situation and when you have the luxury of more time to develop your strategy.
Using examples from across the public, private and third sectors, the book provides an invaluable handrail for entrepreneurs, company directors (executive and non-executive), charity trustees, senior government officials, school governors and anyone else who wants to understand how to develop an effective strategy, one that exploits the opportunities and overcomes the obstacles that today's increasingly chaotic and uncertain environment creates.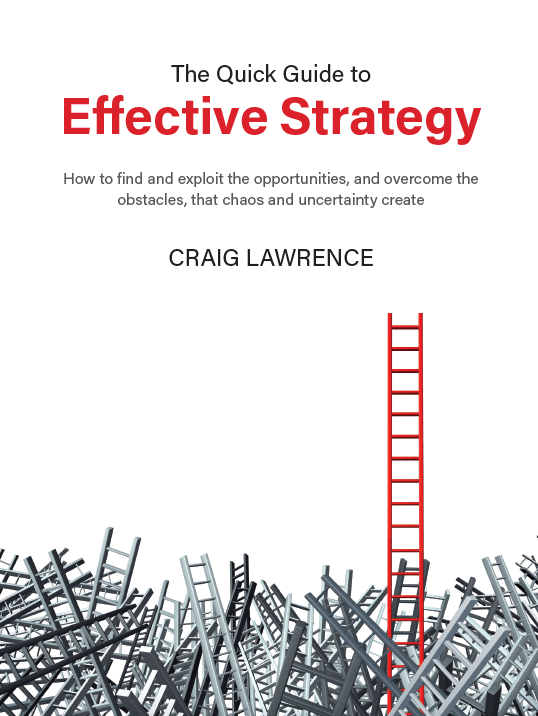 Who is the book for?
The Quick Guide to Effective Strategy is a 'must have' for anyone who needs to develop a strategy, whether in the public, private or third sector. It should also prove invaluable to anyone who just wants to understand the strategy making process better, such as a company director (executive or non-executive), charity trustee or school governor who wants to ensure that the way their organisation approaches the development of strategy reflects best-practice. This is not just because they want their organisation to be successful but also because they have a legal responsibility to act in their organisation's best interests and allowing it to develop bad strategy falls a long way short of this as some of the examples in the book illustrate. And when you think that there were more than 750,000 new companies registered in the United Kingdom in 2021 and that up to 60% of these will most likely fail within three years, it's clear that the examples in the book represent just the tip of the iceberg. Of note, the methodology described in the book is unique to us and is protected by copyright. This means that if you buy the book, you can apply the methodology in your own organisation to develop effective strategy but consultancies are not permitted to use our methodology with their clients without our written authority.
What does the book cover?
The book begins with a quick look at what strategy is (and isn't) and then explores why developing effective strategy is so challenging. This is important as it explains the difference between strategies and plans, and therefore why an organisation's usual planning processes are unlikely to be suitable for developing its strategy. It then builds on this by introducing the reader to an accessible five-stage approach to strategy making, comprised of fourteen high-level critical thinking questions, that can be applied in any organisation, whether it is a business, a charity, a school or a government department. The approach, which draws on international best practice, has been developed by Craig Lawrence Consulting over many years of working with clients to develop effective strategy.
Throughout the book, real examples from these different contexts are used to highlight the key points being made. These include the way that different governments have handled the COVID-19 pandemic, the enduring success of both Apple and Amazon, the failure of the Royal Bank of Scotland in October 2008, the collapse of Carillion in January 2018 and the UK's interventions in both Iraq and Afghanistan, as well as the Taliban's recent success in the latter country. And because effective leadership and good strategy are both required for an organisation to succeed, the book also includes a brief overview of some of the attributes, actions and attitudes (the '3As') that experience suggests can help leaders develop and implement the most effective strategies.
Where can I order the book?
The Quick Guide to Effective Strategy will be available on Amazon from early February 2023. We will include a link here once it's been published. You can find out more about the other books that Craig Lawrence has written here.
---