The Quick Guide to Effective Strategy
The 'must have' how-to guide for entrepreneurs, company directors (executive and non-executive), charity trustees, senior government officials, school governors and anyone else who wants to understand how to develop effective strategy
Most strategy books introduce you to lots of different tools, techniques and methodologies that can be used to analyse almost everything. The problem is that they don't explain how to apply them in a sequence that starts with confirming whether you need a strategy and, if you do, what you want it to achieve, and ends with a completed strategy that you can implement and then adapt as circumstances change (which they inevitably will). The Quick Guide to Effective Strategy is different because that's exactly what it does.
Based on fourteen critical thinking questions dispersed over five thematic stages, the proven methodology described in the book is entirely scalable. This means it works when you only have a few hours to decide how you're going to react to a rapidly unfolding situation and when you have the luxury of more time to develop your strategy.
Using examples from across the public, private and third sectors, the book provides an invaluable handrail for entrepreneurs, company directors (executive and non-executive), charity trustees, senior government officials, school governors and anyone else who wants to understand how to develop an effective strategy, one that exploits the opportunities and overcomes the obstacles that today's increasingly chaotic and uncertain environment creates.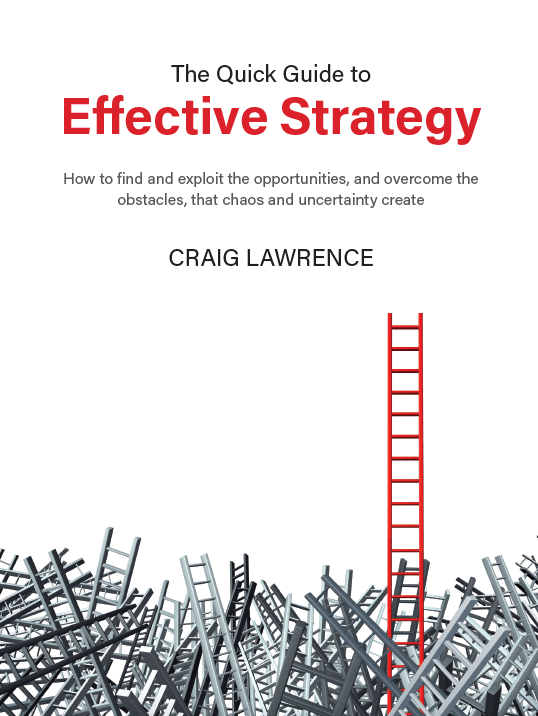 Reviews of 'The Quick Guide to Effective Strategy'
'A Guide For Us All: Refreshingly, Lawrence doesn't seek to elevate strategy to some undeserved intellectual plain. He avoids most jargon and seeks to provide practical tools for the reader to try out…I shall certainly be keeping it on my shelf for use in my work with schools and school leaders.'
(Independent School Management Magazine)
'­This is well structured and full of useful tools and techniques to help budding and experienced strategists…this is essential reading for those who may be grappling with significant business/organisational challenges in an ever-changing world – or appointed as a charity trustee or school governor wanting to give a 'big idea' some structure and a fighting chance of success.'
'This is the only strategy book you need buy: A Quick Guide to Effective Strategy is a very digestible first read for those new to strategy or a handy reference for those needing an occasional reminder. The real value is that it's written by an expert practitioner, so contains a refreshing balance of strategic management theory, proven practice, academic reference and real-world example. In my view it's a 'must read' before deciding whether other strategy books are necessary.'
(Amazon Reader and Strategy Consultant)
Where can I order the book?
The Quick Guide to Effective Strategy is available from all good bookshops and online (see the links to Amazon above). You can find out more about the other books that Craig Lawrence has written here.
---