News
The latest news about articles we've written, reviews of our books and awards we've been nominated for
Presentation about strategy and the characteristics of effective strategy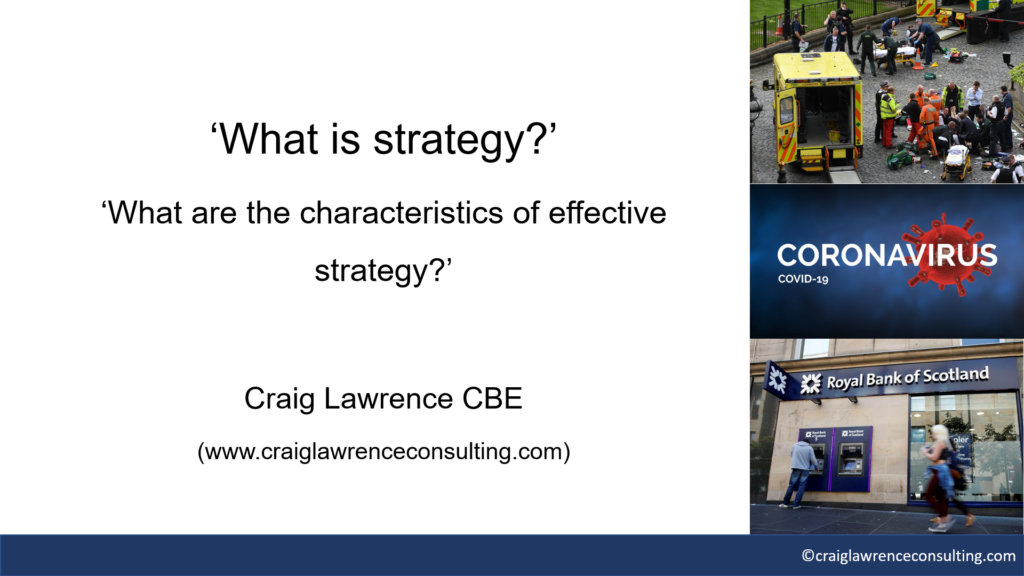 On 4 July 2023, we produced a short (12 min) presentation that considered two questions: the first was 'what is strategy?'; and the second was 'what are the defining characteristics of effective strategy?'. You can watch the presentation on YouTube by clicking the button below. Over the next few weeks, we aim to produce other presentations covering subjects that we routinely encounter when working with clients. These include: why developing effective strategy is so difficult; applying a proven methodology for developing and implementing strategy; and leading the development and implementation of strategy. All the presentations will include real-world examples and case studies to illustrate the points being made. These include the UK counter terrorism strategy (CONTEST), the UK and New Zealand Governments' COVID strategies and the strategy adopted by the Royal Bank of Scotland prior to its near collapse in 2008.
---
Article for the Chartered Management Institute
On 1 June 2023, the Chartered Management Institute (CMI) published an article by Craig Lawrence in its online 'Insights' magazine. The article, titled 'How to develop an effective strategy that works, even during uncertainty', explains why strategies with particular characteristics are highly likely to be successful regardless of how volatile, uncertain, complex and ambiguous the environment is. The article also considers what you can do to develop strategies with these critical characteristics. You can read the full article by clicking the button below.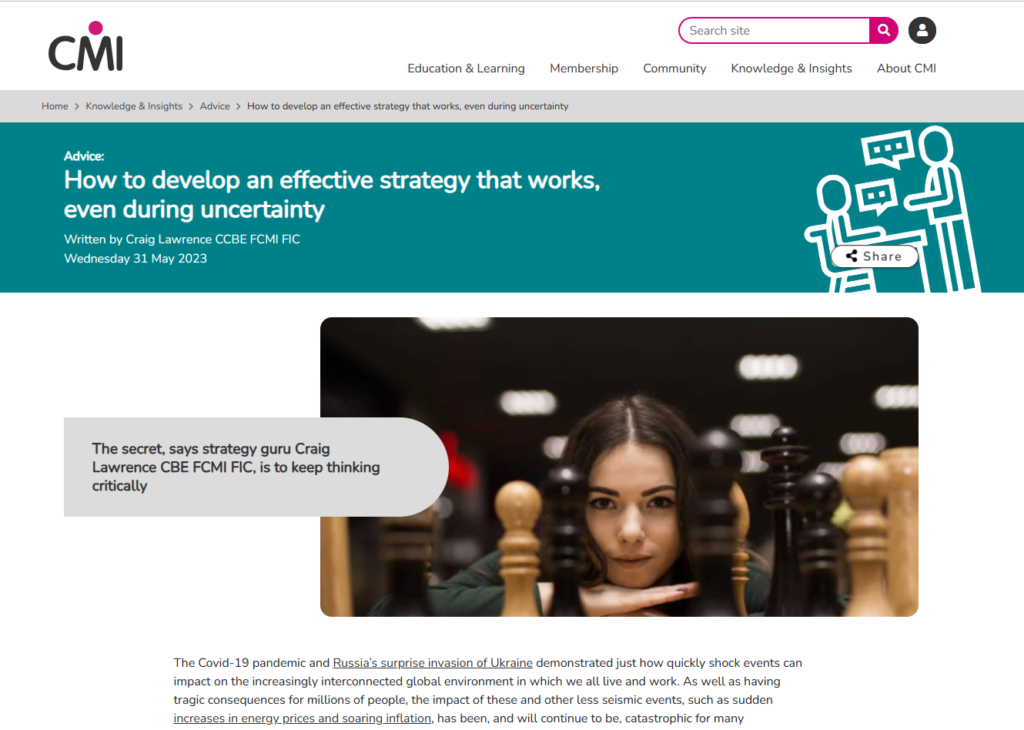 ---
Article for the magazine 'Independent School Management'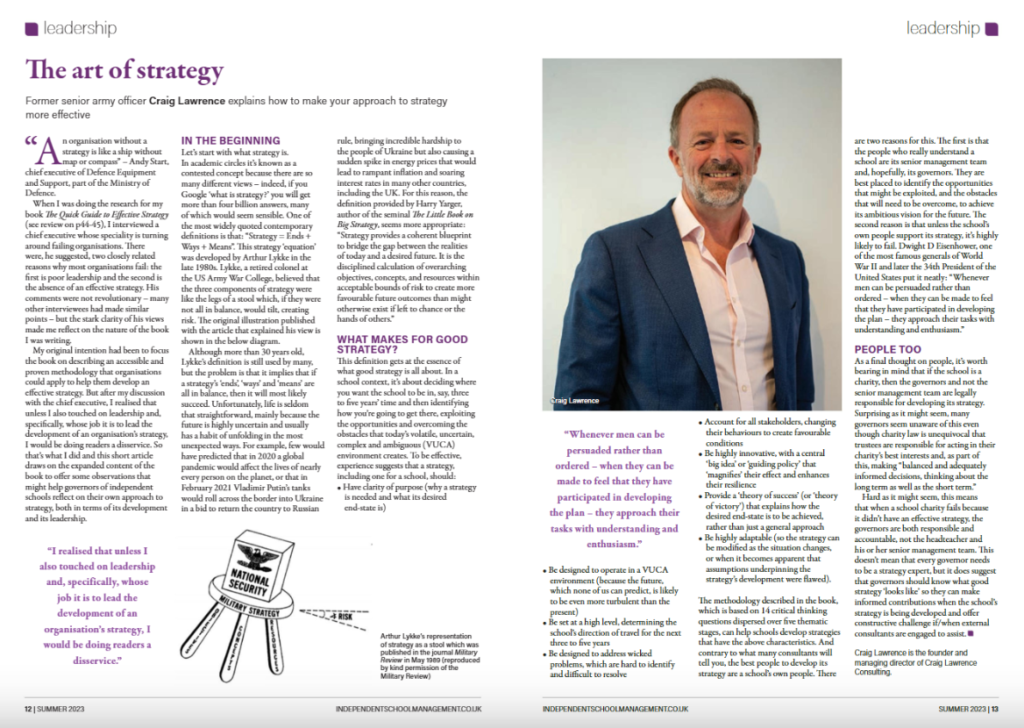 In May 2023, Independent School Management magazine, which is the professional magazine for those involved in leading independent schools (so governors and the senior management team), published an article by Craig Lawrence titled 'The art of strategy'. The article again explores the characteristics of effective strategy but also considers the importance of governors being involved in developing their school's strategy. You can read the full article by clicking on the button below and going to Pages 12 -13.
---
Excellent book review in 'Pennant', the journal of the Forces Pension Society
In May 2023, Pennant, the journal of the Forces Pension Society, published an outstanding review of 'The Quick Guide to Effective Strategy'. As the review was personally written by the Society's CEO, it carried particular weight! The review's highlights include:
"Many readers of Pennant will have a wealth of experience in strategy matters from their military or post-military careers, or indeed both. And many will know Craig Lawrence; his book is essentially a practitioner's guide to leading, designing, developing and implementing an effective strategy – 'nearly half of all strategies fail during implementation' – be that commercial, government or third sector."
"As one would expect, it is well structured and full of useful tools and techniques to help budding and experienced strategists. And, perhaps uniquely, it offers many valuable 'leadership insights' at critical points along his carefully mapped out five-stage approach to strategy-making."
"Lawrence draws upon his own lived experiences and shares excellent examples of where strategies have succeeded or, as is often the case, fallen short, the reasons why and how to avoid a similar fate."
"With the right mix of art and science (more of the former), this is essential reading for those who may be grappling with significant business/organisational challenges in an ever-changing world – or appointed as a charity trustee or school governor wanting to give a 'big idea' some structure and a fighting chance of success."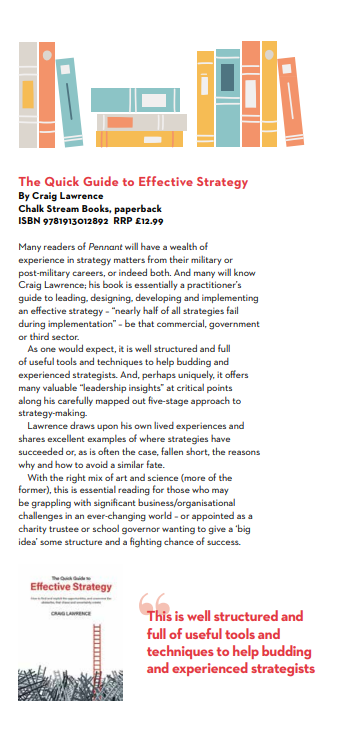 ---
Fantastic book review in the magazine 'Independent School Management'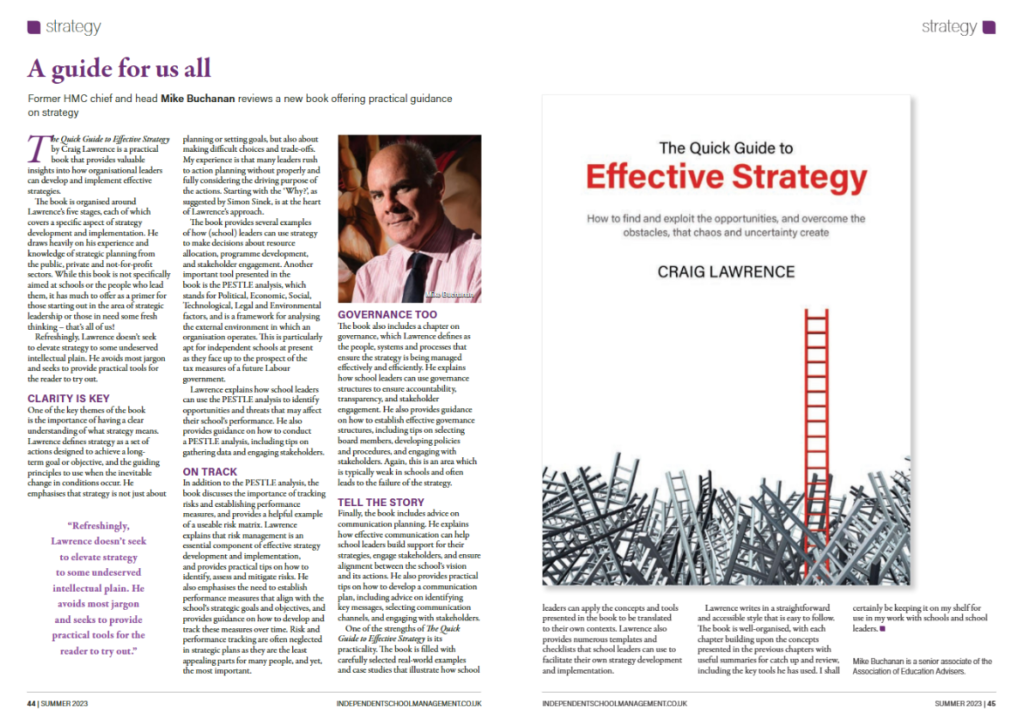 In May 2023, the magazine 'Independent School Management' publishing an excellent review of 'The Quick Guide to Effective Strategy. This review was particularly noteworthy because it was written by a former chief executive of the HMC (The Head's Conference), which is an association for the heads of some of the world's leading independent schools.
In the review – which was titled 'a guide for us all' – the author noted that "Refreshingly, Lawrence doesn't seek to elevate strategy to some undeserved intellectual plain. He avoids most jargon and seeks to provide practical tools for the reader to try out…I shall certainly be keeping it on my shelf for use in my work with schools and school leaders."
---
Nomination for excellence in education and training
On 3 May 2023, we were delighted to learn that we had been nominated for an award in Corporate Vision's 'Education and Training Awards 2023'.
The awards, which are now in their fifth year, aim to "commend outstanding companies and individuals that demonstrate unmatched levels of passion for their work within the education and training industries."
We are not yet sure which of our courses the nomination relates to but we suspect it's either the 3-day 'Strategy Development Workshop' or the 5-day 'Strategy Development Masterclass', both of which we introduced last year. You can see the full range of courses we offer in our new 'strategy services brochure' by clicking the below button but note that all of our programmes and services are scalable and can be adapted to meet a client's specific needs.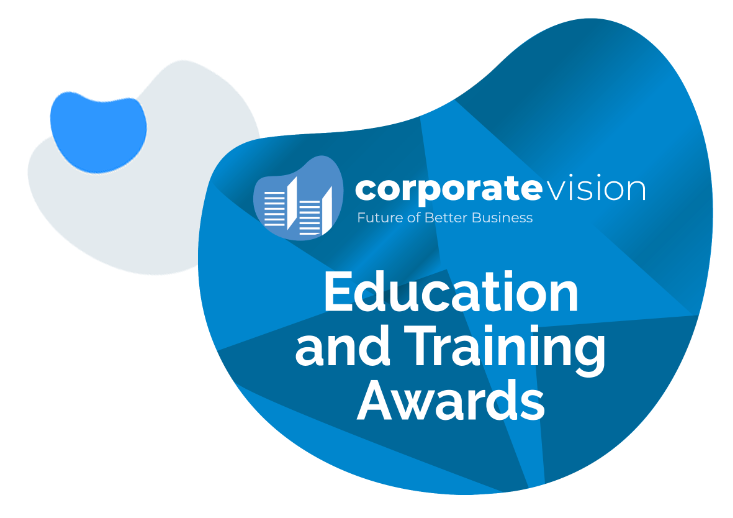 ---